Nitco Tiles - Gupta Bldg Material Stores - D
Shop No 95, Gali No 5, Ground Floor, Timber Market, Kotla Mubarakpur

Wazir Ngr

New Delhi

-

110003

Near Kashmir Timber and Plywood
About Nitco Tiles - Gupta Bldg Material Stores - D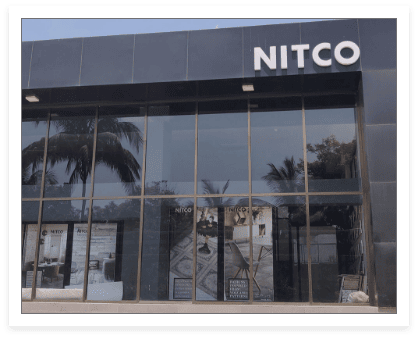 About NITCO
One of the most well-known brands in the world, NITCO is the only company with a presence on all three surfaces—tiles, marble, and mosaic—and a vast selection of products in each.

More than 380 active direct dealers and 1800 active sub dealers are spread out over our robust distribution network. NITCO exports to more than 40 nations and has a sizable clientele abroad. The Company's main goal is to consistently provide innovative products and concepts that are preferred by discerning consu mers and architects.
The address of this store is Shop No 95, Gali No 5, Ground Floor, Timber Market, Kotla Mubarakpur, Near Kashmir Timber and Plywood, Wazir Ngr, New Delhi, Delhi - 110003. read more...
Mon

Closed

Tue

10:00 AM - 08:00 PM

Wed

10:00 AM - 08:00 PM

Thu

10:00 AM - 08:00 PM
Fri

10:00 AM - 08:00 PM

Sat

10:00 AM - 08:00 PM

Sun

10:00 AM - 08:00 PM
Cash

Cheque

Credit Card

Debit Card

Online Payment